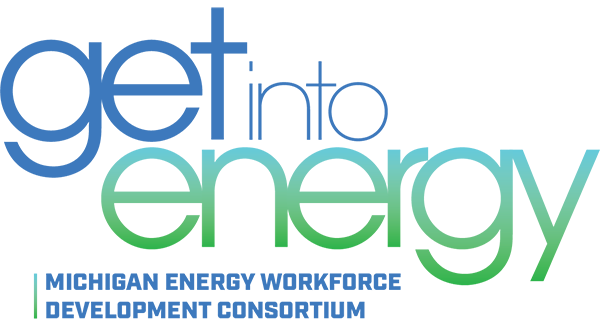 Frequently Asked Questions
Below are several Frequently Asked Questions (FAQ's) to help you learn more about how you can explore a career in energy:
What types of jobs are available in the energy field?
Power generation: jobs related to producting electricity from various sources, such as coal, natural gas, nuclear, solar and wind.
Transmission and distribution: jobs related to building and maintaing the electrical grid that delivers power to homes and businesses.
Energy efficiency and conservation: jobs related to reducing energy consumption through energy-efficient technologies and practices.
Energy storage: jobs related to designing and building systems that store energy for later use, such as batteries and flywheels.
Renewable energy: jobs related to the development and deployment of alternative energy sources, such as solar, wind and geothermal.
Oil and gas: jobs related to the exploration, production, and refining of fossil fuels.
Research and development:  jobs related to developing new technologies and improving existing ones in the energy field.
Project management:  jobs related to managing the construction and operation of energy-related projects.
Sales and Marketing: jobs related to promoting and selling energy-related products and services.
Who are the biggest employers in the energy field in Michigan?
Michigan is home to a diverse energy industry with a mix of traditional and renewable energy sources, and various companies that operate in the energy sector. Some of the biggest (and best!) employers in the energy field in Michigan can be found on our
member's page
.
Where can I learn more about training opportunities in Michigan?
What degrees or qualifications are required for a career in energy?
Generally, Science, Technology, Engineering, and Math (STEM) classes will serve you well for any of our technical careers, as they require an understanding of how and why things work.
For those looking to start work right out of high school or after earning a GED, the industry offers entry-level positions that provide all year training you will need to advance your career.
For those who want to join the industry after a two- or four-year college program, you, too, have a lot of paths to consider. The industry is always in need of engineers of all types. We need those who study environmental science, energy (of course),  natural and sustainable resources, even marine biology, supply chain management, cyber-security, and infrastructure systems.
Check out schools and scholarships that offer energy-related programs here and learn how to start an energy career right after high school.
Are scholarships available?
How does the energy field differ from other industries?
The energy industry is one of the largest and most capital-intensive industries in the world. It is heavily regulated , often requires long-term investments and has a significant environmental impact and it is constantly evolving requiring innovation and adaption.
What are the job prospects and salary for the energy field in the future?
The energy sector pays competitively because of the knowledge, skills and abilities needed in its workforce. In many instances, wages and salaries are well above national levels. For technical and skilled trade positions, the average median hourly wage for energy employees is $25.60 — 34% higher than the national median hourly wage of $19.14. Some segments of the energy industry pay as much as 53% above the median hourly wage.* In addition to strong offerings for employees in technical positions, industry companies provide rich employment packages to attract professionals who can lead and support the business of energy.
What are the benefits of a career in energy?
A career in energy can offer several benefits, such as:
Job security:

 The demand for energy is not likely to decrease in the foreseeable future, which means that jobs in the energy industry are generally stable and secure.

Opportunities for advancement:

The energy industry is constantly evolving, providing opportunities for professionals to advance their careers and take on new challenges.

Impact on society: 

The energy industry plays a crucial role in society, and professionals in this field have the opportunity to make a meaningful impact on the world by developing and implementing sustainable energy solutions.

Good salary and benefits:

Many jobs in the energy industry offer competitive salaries and benefits packages, which can include things like health insurance, retirement plans, and bonuses.

Variety of roles:

The energy industry is a diverse field, with a wide range of roles and specializations available, such as engineers, analysts, project managers, consultants, and technicians. This allows individuals to find a career path that aligns with their interests and skills.

Potential for remote work:

Depending on the role, some positions within the energy industry may offer the possibility of remote work, which can be beneficial for work-life balance.
How can I gain experience and break into the energy field?
There are several ways to gain experience and break into the energy field, including:
Education:

Pursuing a degree or certification in a relevant field, such as engineering, energy management, or environmental science, can provide a strong foundation of knowledge and skills that are in high demand in the energy industry.

Internships:

Many energy companies offer internships or co-op programs, which can provide hands-on experience and the opportunity to network with professionals in the field.

Networking:

Building a network of professionals in the energy industry can be a valuable resource when looking for job opportunities. Attend industry events, join professional associations, and use social media to connect with people in the field.

Entry-level positions: 

Look for entry-level positions in the energy field, these can be a great way to get your foot in the door, and gain valuable experience.
What are the best resources for learning more about careers in energy?
Ready to explore an energy career?
Visit the Center for Energy Workforce Development website to learn more about:
an apprenticeship.
What technical postiiosn require pre-employement testing.
Schools that offer energy curriculum.
Information on scholarships.
A look at industry compensation.
Insight into the industry's committment to the environment and social responsibility.
Lots and lots of information on industry careers and why so many people find their future – and their passion – in the energy sector.
You can also check out schools and scholarships that offer energy-related programs and learn how to start an energy career right after high school.